The Academic Center for Excellence (ACE) offers workshops on topics that are critical to academic success. The program is designed to provide students with an interactive opportunity to learn about and develop the academic skills and personal attributes needed to be successful at the college level. See the schedule below for specific topics. All workshops are free! Students should plan to arrive early and get started on time.
ACE instructors are also available to present workshops to student groups and organizations on campus outside of normal working hours. Workshops must be requested at least two weeks in advance, and scheduling is contingent upon staff availability. To request a presentation, please fill out our survey and an ACE representative will contact you to complete your request.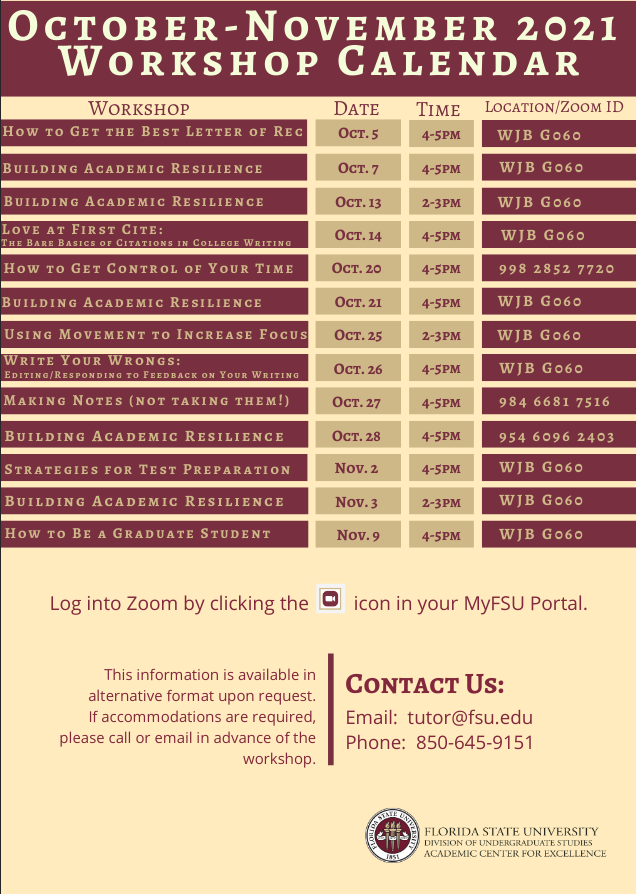 Other workshops available on campus
Career Center. The Career Center offers workshops to help you match majors with jobs, find internships, build your resume, research and communicate with potential employers, prepare for job interviews, negotiate a salary, and many strategies for finding employment after college.
RENEW workshops. At the Student Counseling Center, current FSU students offer one-on-one sessions on Time Management, Stress Management, and Study Skills.
Professional Development Series for Graduate students. The Graduate School holds workshops in preparing electronic theses and dissertations, applying for grants and other funding, interviewing for an academic position, and publishing.
Other resources to help you prepare for the GRE include: FSU students can access additional resources to help prepare for graduate exams. If you are planning to take the GRE, use these 2 resources to help you prepare – 1) visit this link and 2) you can access sample GRE exams at this resource.
For access to other sample graduate exams, as a FSU student you get free access to Peterson's Test and Career Prep resources.
Transfer Student Services offers a series of workshops in technology, study skills, balancing workload, and self-care to support transfer students in becoming more accustomed to the FSU experience. Looking to meet other transfer students? Transfer Roundtable meets monthly to network and discuss topics relevant to the transfer experience and Study Sundays give transfer students an opportunity to meet study partners or get one-on-one assistance with developing a study plan. Click here for a schedule of events.
title-inside title-centered
2