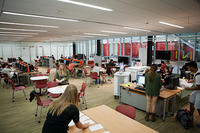 'Tutoring opportunities at FSU enhance our students' classroom learning experiences and promote further engagement with rigorous academic material.'
Peer tutoring is a process that supports student learning by strengthening a wide variety of educational skills. Working with a tutor can help you make the most of your study time while at the same time providing an enhanced understanding of potentially difficult subject matter. Tutoring is therefore an activity in which students are learning to better help themselves, both for courses in which they are currently enrolled and for their future academic endeavors.
ACE Learning Studio @ Johnston Ground (WJB)
SPRING 2017 Hours
The ACE Learning Studio will open on Monday, January 9, and tutoring (both drop-in and appointments) will begin on Tuesday, January 17.
Beginning on January 9, 2017 ACE will have the following hours:
Monday through Thursday, 10am-10pm
Friday, 10am-5pm
Sunday, 5pm-10pm
Exceptions
In observance of Martin Luther King, Jr. Day, we will be closed on Sunday (1/15) and Monday (1/16).
We will also close at 5pm on March 10 and re-open on Monday, March 20th, beginning at 10am.
We will be closed on Sunday, April 16. Our normal hours will resume on Monday, April 17, beginning at 10am.
Located in Johnston Ground, the ground floor of the Johnston Building (WJB), the ACE Learning Studio provides free tutoring in many subject areas, including accounting, biology, chemistry, economics, math, statistics, physics, and more. Please call with any questions or to make an appointment (850-645-9151). We offer both drop-in and appointment based tutoring – stop by and see us soon to ensure that your semester progresses smoothly!
Tutoring services are available to enrolled students who are looking for additional help with course material as well as organizational and time management skills. Tutoring is not only for students who are currently experiencing academic challenges!
Students must not consider tutoring services as a replacement for attending class. Neither is tutoring offered as a time to 're-teach' the material. It is expected that students will come to any tutoring session prepared with specific questions.
For further information, please contact:

Courtney Barry, Ph.D.
Director of the Academic Center for Excellence
G050 William Johnston Building
Florida State University
Tallahassee, FL 32306-1221
Phone: 850-645-9361
Email: cbarry@fsu.edu